Located at the heart of the largest central European economic area and the state capital of North Rhine-Westphalia, Düsseldorf is home to one of WHU's campus locations. Host to around 180 nationalities, Düsseldorf is a diverse and welcoming city bursting with life and culture. Whether relaxing by the River Rhine or exploring the Altstadt: Düsseldorf offers plenty to see and do. Stroll on the Königsallee or in the media harbour, take a break in nature walking through one of its many parks and gardens, explore the museums, or enjoy music and art at the Opera House.
As the headquarters of many international companies, Düsseldorf goes beyond art, culture, and restaurants, and is an important location in terms of industry and economy. Well-connected to other European cities with its international airport, Düsseldorf is an ideal location for WHU students looking to further their management education.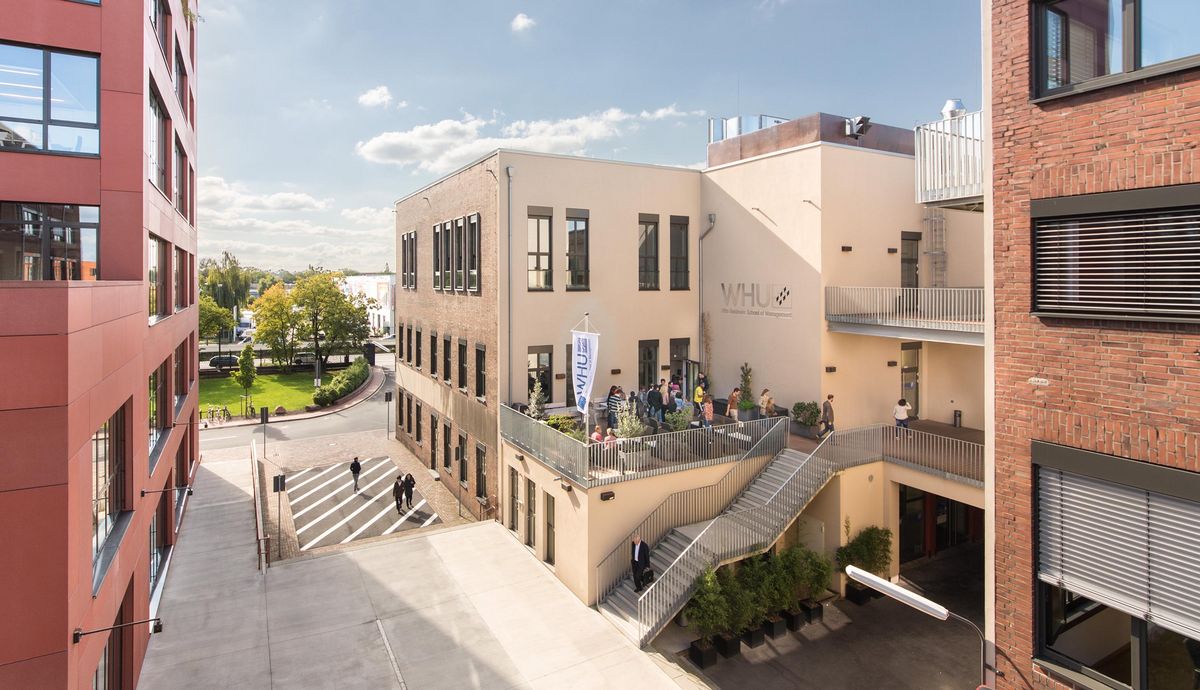 Get to know Düsseldorf
Life in Düsseldorf – Where innovation meets culture.
Characterized as a city containing a multitude of different nationalities and molded by a strong economy, Düsseldorf benefits from a strong infrastructure essential for its 600,000 residents. A unique city due to its position as state capital, economy and internationality, Düsseldorf is also rapidly gaining a reputation as a hub for culture and innovation. Rated by Forbes Magazine as one of the best cities in the world for its high quality of life, Düsseldorf attracts start-ups from around the world looking to meet investors and pitch new ideas. With Germany also benefiting from one of the lowest unemployment rates in Europe, it's no wonder Düsseldorf is attracting some of the world's finest minds!
For students there is a wide range of leisure activities in the areas of sports and culture:
Germany is a sporting country and a lover of the outdoors, so sports fans can find plenty to keep them occupied in Düsseldorf. With numerous sports clubs, swimming pools, and running routes, there's no end to activities on offer. For those interested in watching sports events, the city has its own ice hockey and football teams who are always happy to welcome more fans! Furthermore, our WHU staff members and students usually participate in the annual company run (B2Run) in Düsseldorf.
Like many other German cities, Düsseldorf is home to a plethora of museums, theatres, art galleries and concert halls. Visitors can enjoy walking along the Rhine embankment, visit the city hall, or even take a seat at an open-air cinema during summer. Annual events in the city include Germany's biggest jazz festival, the diverse Open Source Festival and, as the home of over 7000 Japanese nationals, Japan Day in May.
Aside from sports and culture, Düsseldorf also maintains its historic features with the beautiful Old Town, and is one of the greenest cities in Germany with its vast number of parks and green spaces, including the famous Japanese Garden. Shoppers can enjoy the exclusive Königsallee for its designer brand names, or relax at one of many restaurants cafes, and bars.
WHU Campus Düsseldorf –
The focal point for talent development.
On WHU Campus Düsseldorf we offer a top-ranked MBA Program (#1 in Germany, Financial Times 2019) in a full-time and a part-time version, and Executive Education programs. The chairs and centers located in Düsseldorf provide outstanding theoretical and practical education in all programs and actively contribute to WHU's research output. Furthermore, we also accommodate various events and conferences, providing a center of excellence and driven environment for business education that focuses on management education.
Modern, diverse and international, just like the city, the Düsseldorf campus is the perfect place to take career ambitions to the next stage. Why not take a look for yourself?
MBA students
Total number
Participants
Executive Education
Faculty members
in Düsseldorf
Developing career goals with flexible learning possibilities, the study programs at WHU Düsseldorf are state-of-the-art, applicable, and top ranking in Germany.
The latest from Campus Düsseldorf –
Read more about news and events from WHU.
Where to stay in Düsseldorf –
Find a suitable hotel in the city center.
Close to Campus Düsseldorf is a range of hotels available, which cooperate with WHU. However, please be aware that on certain dates such as fairs, prices may rise considerably. Be sure to check the website for upcoming events.
The booking code for members of the WHU community is "WHU". Please indicate it when booking.
Still have questions?
Contact us at Campus Düsseldorf.
Tickets can be obtained either on the tram itself or at the station. One-way fare: € 1,70 short distance fare, maximum 3 stops (Kurzstrecke).
From Düsseldorf Hbf (main station) take the underground line U 75 in the direction of 'Eller - Vennhauser Allee'. Disembark at the 2nd stop 'Kettwiger Straße'. Take the stairs up to the right hand side exit signposted Kettwiger Strasse and when arriving on Kettwiger Strasse, turn right. Continue (left) onto Erkrather Strasse. You can reach the Schwanenhöfe in around 5 minutes. The WHU sign ahead of you on the left hand side (on the Schwanenhöfe signpost) will help you for further directions.

Detailed information on public transportation timetables can be obtained online (also in English): www.rheinbahn.de or www.vrr.de.

Detailed information on timetables for German Rail can be obtained online (also in English): www.bahn.de.
It is approximately a 25 minute ride (10 km) from Düsseldorf Airport DUS to WHU's Campus Düsseldorf. One-way fare: +/- € 35. From Düsseldorf Hbf (main station) the fare is approximately € 10 one way. Please give the taxi driver the address in addition to the name "Schwanenhöfe."
Whenever calling a taxi please ask the driver whether he accepts credit cards – not every taxi will.
Rental cars can easily be booked at Düsseldorf International Airport and at Düsseldorf Central Station via Europcar.
WHU – Otto Beisheim
School of Management
Erkrather Straße 224a
D-40233 Düsseldorf
Tel.: +49 211 44 709 - 601
Fax.: +49 211 447 09 - 609