How Technologies Will Change Sports in the Digital Age
Forecasts the effects of robotics, bioengineering, machine learning, and virtual reality on sports

Discusses a range of technological innovations in the sports industry

Examines the technological transformation of athletes' performance, sports consumption, and business models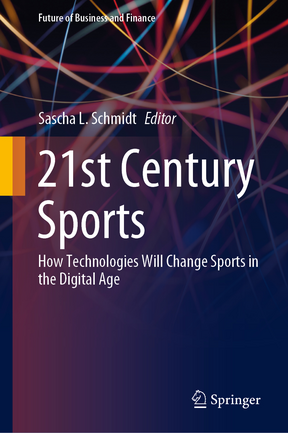 This book looks at the effects of technology-induced change in sport within the next five to ten years and provides food for thought for what lies further ahead. Presented as a collection of essays, the authors are leading academics from renowned institutions such as Massachusetts Institute of Technology, Queensland University of Technology, and University of Cambridge, and practitioners with deep technological expertise. In their essays, the authors examine the impact of emerging technologies like artificial intelligence, internet of things, and robotics on sports and assess how they will change sport itself, consumer behavior, and existing business models. The book should enable athletes, entrepreneurs, and innovators working in the sports industry to spot trendsetting technologies, gain deeper insights into how they will affect their activities, and identify the most effective responses to stay ahead of the competition on and off the pitch.
Order the book here via Springer International or via Amazon. Also upon request a Mandarin edition has been published lately.
The 2nd edition with additional chapters will be published in autumn 2023.
Together with "Athletic Interest", we have translated the main take-aways of the book into an engaging video essay:
These subject matter experts have each
contributed a chapter on their area of expertise

Alex Fenton, PhD
Doctor of Digital Business at The University of Salford Business School
LinkedIn profile
Twitter account
Nicolas Frevel
Research Assistant at Center for Sports and Management – Otto Beisheim School of Management
LinkedIn profile
Twitter account
Dr. Johann Füller
Professor for Innovation and Entrepreneurship at the Department of Strategic Management, Marketing and Tourism at Innsbruck University and CEO of HYVE
LinkedIn profile
Craig Hill
Strategy & Partnerships Manager at Vald Performance and Special Projects at Australian Sports Technologies Network
LinkedIn profile
Dietmar W. Hutmacher
Professor and Chair of Regenerative Medicine at the Institute of Biomedical Innovation at QUT and Director of the Australian Research Council Industrial Transformation Training Centre for Additive Biomanufacturing; TUM Hans Fischer Senior Fellow Alumni, and Adjunct Professor at University of Queensland
LinkedIn profile
Sandy Khaund
Vice President Product, Ticketmaster
LinkedIn profile
Twitter account
Frank Kirchner, PhD
Director of the Robotics Innovation Center and Executive Manager of the German Research Center for Artificial Intelligence (DFKI) Bremen and Chair of Robotics at the University of Bremen
Harry Krüger
Research Assistant at the Center for Sports and Management at WHU – Otto Beisheim School of Management in Düsseldorf
LinkedIn profile
Jordi Laguarta Soler
Researcher at the Auto-ID lab of Massachusetts Institute of Technology
LinkedIn profile
Andy Miah
Professor and Chair of Science Communication & Future Media in the School of Science, Engineering and Environment at the University of Salford, Manchester
LinkedIn profile
Twitter account
Tim Minshall, PhD
Inaugural Dr. John C. Taylor Professor of Innovation at the University of Cambridge, Head of the Institute for Manufacturing (IfM), and Head of the IfM's Centre for Technology Management
LinkedIn profile
Twitter account
Daniel Morris, PhD
Associate Professor of Electrical and Computer Engineering at Michigan State University
LinkedIn profile
Dr. Brianna Newland
Academic Director of undergraduate programs and an Associate Professor of Sport Management in the Preston Robert Tisch Institute for Global Sport at New York University (NYU)
LinkedIn profile
Benjamin Penkert
Founder of Berlin-based SportsTechX
LinkedIn profile
Twitter account
Dr. Johanna Pirker
Assistant Professor of Games Engineering at Graz University of Technology and Director of Game Lab Graz
LinkedIn profile
Irving Rein, PhD
Professor of Communication Studies in the School of Communication at Northwestern University
Sanjay Sarma
Vice President for Open Learning and Professor of Mechanical Engineering at MIT
Martin Schlegel
Director of the Australian Sports Technologies Network (ASTN)
LinkedIn profile
Sascha L. Schmidt
Director of the Center for Sports and Management and Professor for Sports and Management at WHU - Otto Beisheim School of Management in Düsseldorf and Academic Director of SPOAC - Sports Business Academy by WHU
LinkedIn profile
Twitter account
Ben Shields, PhD
Senior Lecturer in Managerial Communication at the MIT Sloan School of Management
LinkedIn profile
Twitter account
Josh Siegel, PhD
Assistant Professor of Computer Science and Engineering at Michigan State University and the Lead Instructor for the Massachusetts Institute of Technology's "Internet of Things" and "DeepTech" Bootcamps
LinkedIn profile
Katsume Stoneham
Freelance editor and writer
LinkedIn profile
Brian Subirana
Professor and Director of the MIT Auto-ID lab and currently lecturer at Harvard University and at the MIT Bootcamps
LinkedIn profile
Benno Torgler, PhD
Professor of Economics at the Queensland University of Technology and the Centre for Behavioural Economics, Society and Technology
LinkedIn profile
Read less
What the media and others say