Honorary Professor
Professor Dr. John Onto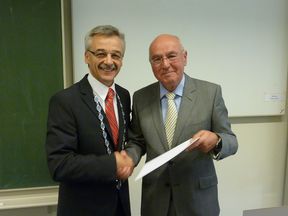 According to his inaugural lecture "BUSINESS schools or business SCHOOLS? Some reflections of an academic and a sometime administrator" on September 15, 2010 Professor Onto received his Certificate of Appointment of an honorary professor.

As a distinguished professor in Management, Professor Onto was on the faculty of the business school at Georgetown University, Washington D.C. In 1995 he was a BP Visiting Professor of International Management at UFSIA in Antwerp, Belgium. In 1995 and 1996 he was a Visiting Professor in Negotiations at the Singapore campus of INSEAD and in 2000 a Visiting Professor at Freiberg University in Germany. Since 2008 Professor Onto has taught the negotiations component (Negotiations – Process and Strategy; Industry Studies in Asia) of the WHU MBA program.

Professor Onto has designed and led programs in international business and negotiations in Australia, the USA, Singapore, Belgium, France, Germany, New Zealand, Trinidad and Mexico. He also conducted and / or consulted programs of several international companies, e.g. Clemenger, Fosters, Nilsens, Kraft, the Royal Australian Navy, South East Water, David Jones Ltd., Barclays Bank, BHP Billiton and Rio Tinto.