In Praxi Outstanding Thesis Awards –
In recognition of excellence.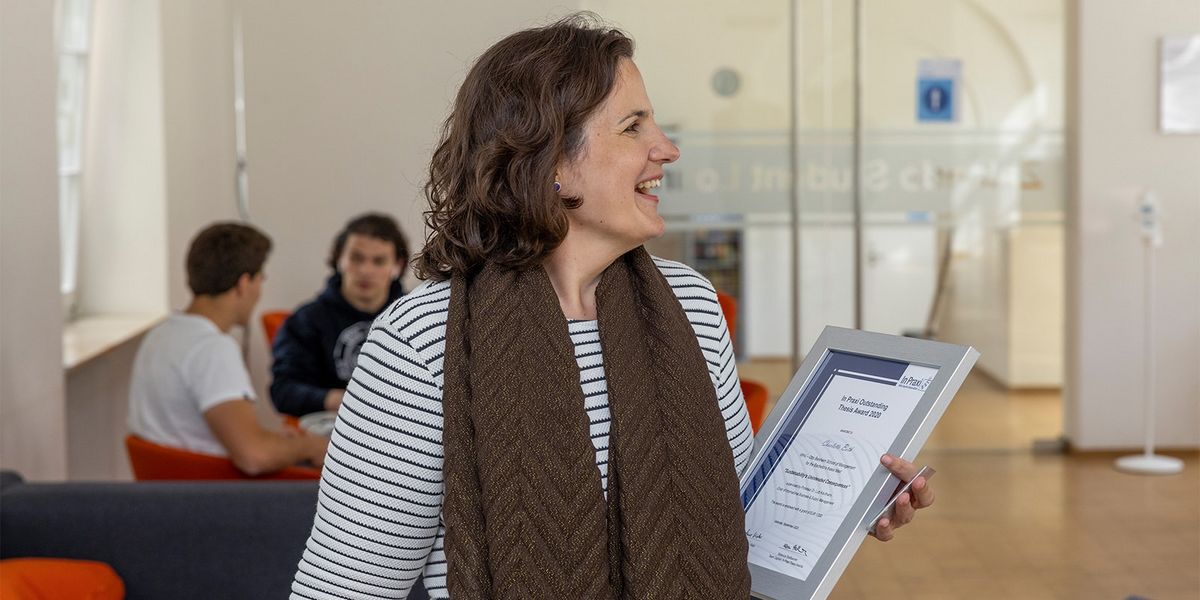 With the In Praxi Outstanding Thesis Awards, the alumni of WHU recognize final theses of WHU graduates that are exceptional in a number of ways: They stand out academically, they address a question that is relevant beyond business and to society as a whole, and they generate novel insights and have a clear potential for impact. By publicizing the awards, In Praxi increases the visibility of the school's social impact beyond the WHU community.
The In Praxi Awards for Outstanding Thesis are presented after the jury meeting at WHU's graduation ceremony held every year in September. Each award includes a prize of EUR 1,000. Furthermore In Praxi offers to connect awardees with a mentor from the In Praxi network who will support them to develop the thinking and ideas of their thesis further and put them into practice. All past winners of the In Praxi Outstanding Thesis Awards are showcased on the information boards in the Zalando Lounge in the In Praxi Learning Center.
In September 2023, In Praxi will present the 14th In Praxi Outstanding Thesis Awards: one for a BSc thesis and one for an MSc thesis. The In Praxi MBA Outstanding Thesis Award will be presented in early 2024. We look forward to receiving numerous submissions from all WHU programs!
If you are interested, please contact our team at award(at)in-praxi.org.
In Praxi Outstanding Thesis Awards –
Past Awardees.
BSc 2022
Can Everyone Engage in Leadership? Understanding how Role Transitions from an Expert to a Leadership Role Affect Work Motivation and Well-Being
Alica Komorek
MSc 2022
Ethical Desired Fundraising Communication of a Non-Profit: A Randomised Field Experiment and Survey Study on the Business Implications
Hannah Erlebach
MBA 2022
A systems perspective of key levers for change in response to conflict-induced shock to the global food system
Patience Nyasha Saungweme
MSc 2021
ESG and Investment Behavior – Does Corporates' Engagement in Environment, Society, and Governance Impact Individual Investors' Stock Market Decision-Making?
Catharina Janz
MBA 2021
Analysis of the Environmental- and Economic Aspects of Plastic Recycling Technologies for the Circular Economy
Mychal Augustine
BSc 2020
Sustainability's Unintended Consequences
Charlotte Both
MSc 2020
Objectivity and Income Inequality: Research Institutes at the Intersection of Science and Politics
Philipp Burmeister
BSc 2019
Digitalization to Foster Climate Protection – An Analysis of the Boundaries
Hendrik Schülzchen
MSc 2019
Elections 2019: Lessons Learned? The Influence of Social Media Use on German Electoral Behaviour
Marie Christine Walter
BSc 2019
Digitalization to Foster Climate Protection – An Analysis of the Boundaries
Hendrik Schülzchen
MSc 2019
Elections 2019: Lessons Learned? The Influence of Social Media Use on German Electoral Behaviour
Marie Christine Walter
BSc 2017
Technological Innovation and the Future of Senior Care
Philip Harms and Till Oltmanns
MSc 2017
The Digitalization of the Patient-Physician Relationship: A Discrete Choice Based Analysis of Patients' Preferences for Digital Health Services in Germany
Philip von Wedel
BSc 2016
The Fiscal Effects of Migration in Germany: Why the Calculated Impact of the Refugees from the Arab World is Imprecise but Important
Niklas Roth
MSc 2016
Happy Caregivers Keep Going. How Caregivers for the Elderly Can Be Retained Longer in Their Profession. An Empirical Study
Robin Klemm
MSc 2015
Network Neutrality on the Internet: Implications for Competition, Innovation and Social Welfare
Nico Falk
MSc 2014
What Makes a Great Founding Team? – An Investor's Perspective
Sven Lackinger
BSc 2013
Innovation in Family Businesses – An Analysis of Idiosyncratic Factors of Family Businesses and Their Fulfillment of Critical Success Factors of Innovati
Niclas Baldus
BSc 2012
Modeling Electricity Price Volatility in the Year 2020
Fabian Stolz
BSc 2011
The Influence of Corporate and Payout Taxes on the Investment Behavior of Firms – An Empirical Investigation
Stefanie Kaufeld and Dominic Alemany
BSc 2010
Corporate Social Responsibility as Competitive Advantage
Anna Frese