Bachelor in International Business Administration: Application and Admissions –
Start your WHU journey today!
The Bachelor in International Business Administration (BIBA) at WHU is a rigorous undergraduate program. It demands outstanding intellectual abilities as well as exceptional personal and interpersonal skills.
We value your whole personality, looking beyond academic proficiency and towards your potential in business. Exceptional logical and analytical skills should be balanced with creative thinking, openness, and team spirit. Excellent communication skills, general knowledge, and fluency in English are important.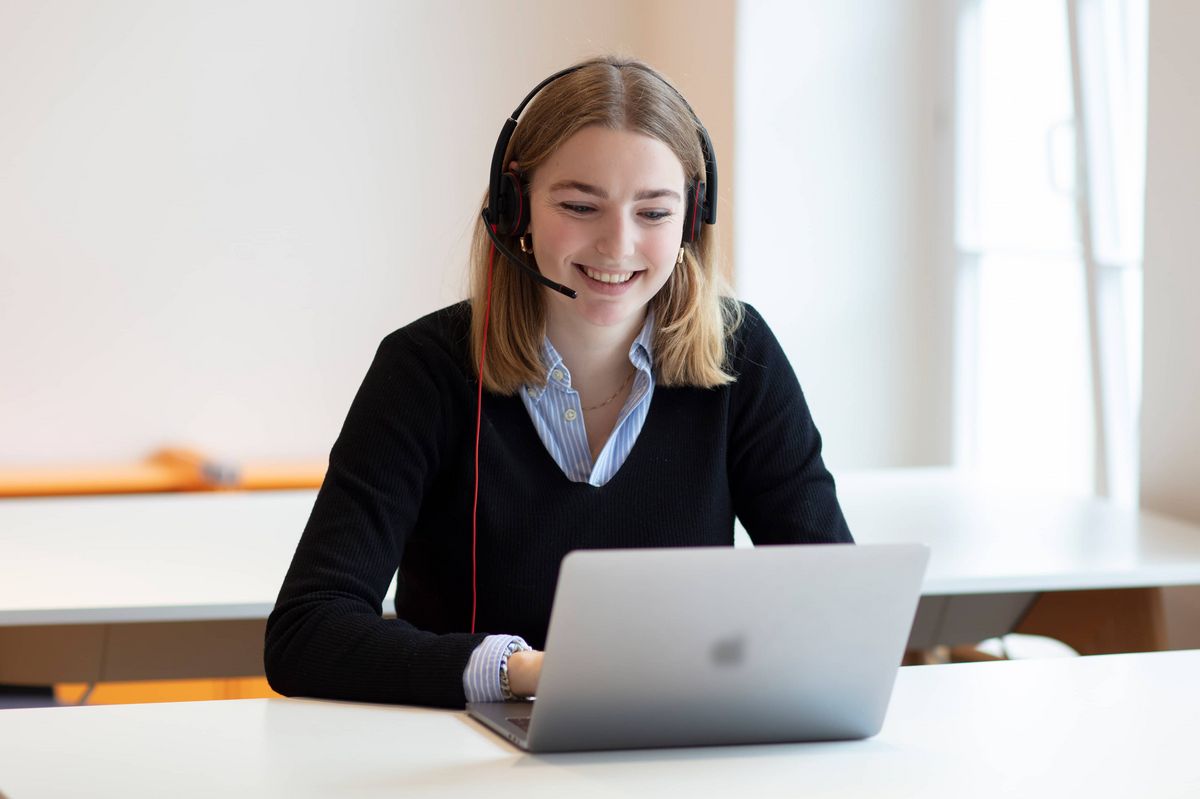 International Women's Day 2023
To mark International Women's Day and Women's History Month, we are offering an application fee waiver to all new female applicants for the entire month of March!
What you need to know about our admission requirements:
Secondary school diploma or equivalent higher education entrance qualification (e.g., IB, Abitur, A-Levels). If your secondary school diploma has not been issued by the application deadline, you may apply with the most recent mid-term report card/predicted grades from your final school year.

To check whether you are eligible to study in Germany, please review either of the following websites:
Uni Assist
Anabin (available only in German)
WHU accepts one of the following English language tests:
Please note: If you are currently studying at a school with English as the language of instruction, you may be exempt from an English test. In this case please upload a confirmation from your school in our application portal.
Achieved through either an internship or apprenticeship amounting to a total of six weeks in the field of business administration/management, e.g. marketing and sales, administration, finance and taxes, real estate, logistics, innovation and technology, or in areas such as communication, media, corporate social responsibility or sustainability. The pre-study internship can be completed in a start-up, small to medium-sized company or corporation.
This practical experience can also be a combination of multiple internships lasting at least two weeks each. Internships shorter than two weeks, older than two years, or completed at your family's business will not qualify. The internship(s) must be completed before the start of the program.
* Proof of English proficiency and confirmation of (upcoming) internship(s) must be submitted by May 31, 2023, at the latest. Please note that the English test must be completed by the end of April/beginning of May (correction time approx. 2 weeks). Please allow even more time for the Cambridge C1 Advanced test (correction time approx. 3 months). The actual internship(s) must be completed before the start of the program.
Application Documents
You can download the application documents here:
Important Dates
Application Period
October 15, 2022 to May 15, 2023
(deadline for English test results and proof of internship/s: May 31, 2023)
Application Fee
Early bird deadline: March 5, 2023 (no application fee up until this date)
A fee of 50€ applies for applications submitted after the early bird deadline.
Admission Rounds*
Round 1 (application deadline: March 5, 2023)**
- March 14, 2023 – March 16, 2023: Presentation and questions based on personality and motivation
- March 17, 2023 – March 18, 2023: Written Test
- March 31, 2023 – April 1, 2023: Final Interviews
Round 2 (application deadline: May 15, 2023)
- May 23, 2023 – May 25, 2023: Presentation and questions based on personality and motivation
- May 26, 2023 – May 27, 2023: Written Test
- June 16, 2023 – June 17, 2023: Final Interviews
Beginning of studies:
September 1, 2023
*Applicants can take part in either Round 1 or Round 2.
**We highly recommend students requiring a visa to apply for Admission Round 1. If you have any questions, please contact us.
Our three-step application process –
Get started now!
If you meet the admission requirements and are motivated to start your future now, you will be eligible to take part in the three-step admission process. We carefully select approximately 240 students for our bachelor programs per year.
Step-by-step application process:
Once you have reviewed the Bachelor Programs' admission requirements please read through the required application documents (pdf) and then complete the following steps:
Application fees
Applications submitted until March 5 will receive an application fee waiver.

After March 5, a non-refundable application fee of EUR 50,00 is charged for processing each application received by WHU.
We recommend wire transfer as the most efficient payment method:
Beneficiary: WHU – Otto Beisheim School of Management
Bank name and address: Sparkasse Koblenz, Bahnhofstr. 11, 56068 Koblenz, Germany
IBAN: DE85 570 501 20 00000 94102
BIC (SWIFT): MALA DE 51 KOB
Please name the payment transaction as follows: "100421-last name, first name".
Upon review of all application materials, we will invite qualified candidates to participate in the final admission round. We select candidates based on academic performance as well as personal characteristics and extracurricular activities.
In this step, we want to learn more about you. The admission round consists of three parts:
Online analytical test (example questions, pdf)
Online assessment (presentation and questions on personality and motivation)
Online one-on-one interviews
The decision is usually made within a week after the final step of the admission round and you will receive the results via e-mail.
You can also reserve your study offer for a year if you are planning a gap year after school (e.g. work & travel, internship, au-pair). In this case, you can of course defer submission of your English certificate and proof of work experience until the following year.
Please note: To download the forms, we recommend to save them on your desktop (right mouse click, save as) and then open them afterwards with Adobe Reader DC from there.
Taking a gap year? An early application is possible.
If you are graduating in 2023 but still wish to take a year off, not a problem! Apply early for a spot in the class starting in fall 2024. You have until spring 2024 to submit all test results. You can also withdraw your application free-of-charge at any time.
Our online application portal is open!