Master in International Business: Application & Admissions –
Start your WHU journey today.
Who are we looking for?
The Master in International Business is designed for graduates with no more than two years of postgraduate professional experience looking to boost their career by broadening their general management skills. We are looking for candidates with a Bachelor's degree in business-related fields such as business engineering, business psychology, business law, tourism, hotel management, or sports management. Our program also welcomes candidates who have an academic degree with a minor in business or have at least 40 ECTS credits in business courses.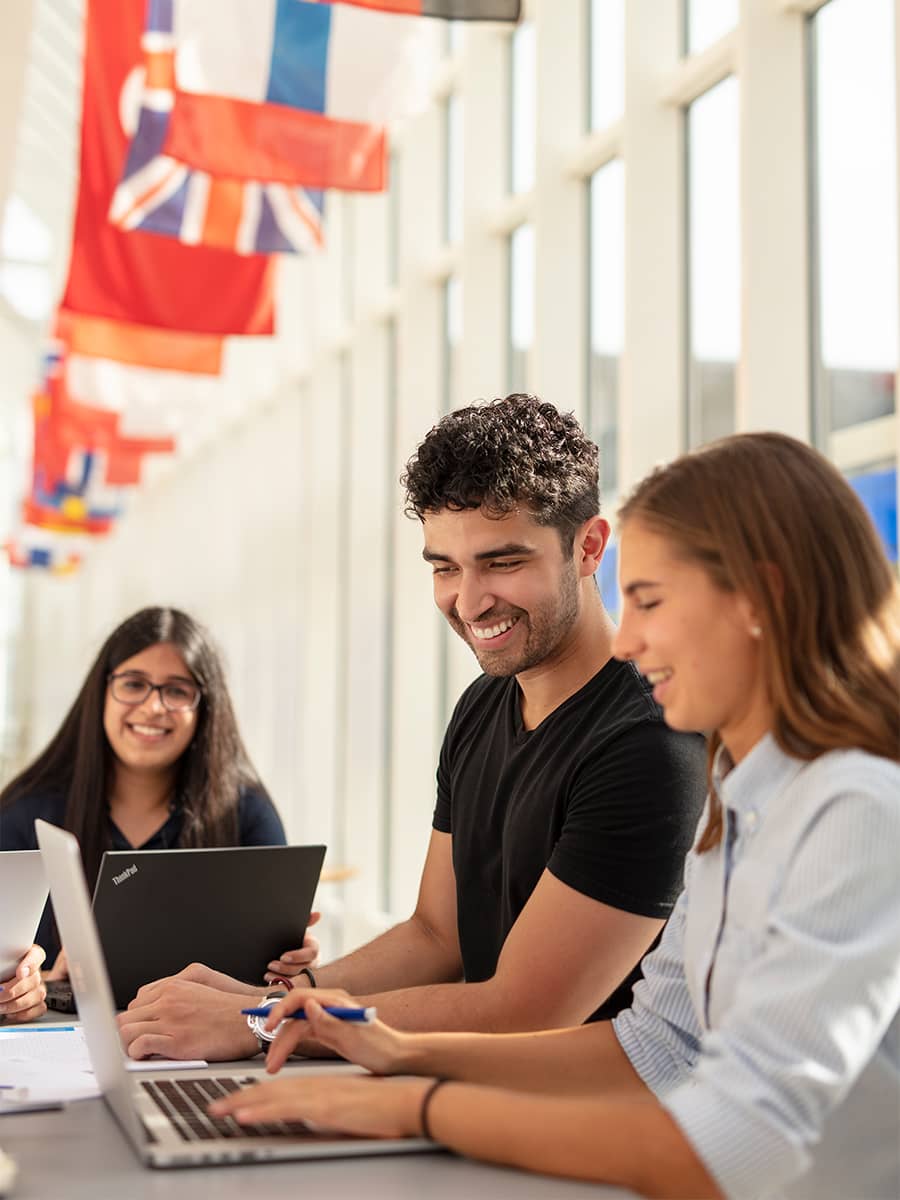 Apply now –
Get your study offer in 3 steps.

What you need to know about our Master Program admission requirements:
We welcome applications from graduates with a bachelor's degree or equivalent from an accredited college or university, and with a sound knowledge of business administration, economics, and quantitative methods.
Missing practical experience can be completed by August 31, 2021. Please contact the Admissions Team in case of questions.
Important information for candidates from China and Pakistan
Candidates from China or Pakistan are recommended to apply as early as possible before the start of the program as the visa application process for applicants from these countries can take several months.
Application Center
Our Application Center will open on October 15, 2021!
Application deadlines
April 30, 2022*
May 31, 2022**
* For candidates requiring a study visa
** For candidates from EU/EEA countries as well as from Australia, Canada, Israel, Japan, New Zealand and the USA
Early bird
Apply early with complete official application documents to receive an Early Bird reduction of 10% on one semester tuition fee.
Apply by February 15, 2022 and receive a EUR 100 application fee waiver.
Once you have reviewed the Master of Science Programs' admission requirements please read the Application Checklist and then complete the following steps:
Prepare a CV in English
Collect the supporting documents (see Application Checklist)
Create an application account online
Upload all required documents
Pay application fees (see below)
Make sure to click "submit"
To begin the application process, simply log in to the application center. Once you are logged in, you will be presented with further information on filling out various fields. You do not have to complete the online application at once - at any time during the application process you may take a break, save the information you have entered, and come back to it later.
Application fee
We charge a non-refundable fee of €100 for processing applications. However, if you apply before the early bird deadline of February 15, 2022, this fee will be waived. We recommend wire transfer using the details below as the most efficient payment method:
WHU – Otto Beisheim School of Management
Bank name and address: Sparkasse Koblenz, Bahnhofstr. 11, 56068 Koblenz
Reason for payment: lastname_firstname Application MSc
IBAN: DE85 570 501 20 00000 94102
BIC (SWIFT): MALA DE 51 KOB
The fee must be paid when the online application is submitted or the application will not be processed. Please submit proof of payment together with your application.
After having evaluated your documents, qualified candidates are invited to a video interview on Kira Talent. Kira Talent is an online platform, which allows us to record questions as well as the answers of the candidates.
Together with the invitation, we will send you a link for Kira Talent as well as further information on the interview via e-mail. You have one-week time to complete the interview. As the interview will be recorded, you can decide when you want to take the interview within the given time of one week. Please note that once you begin the interview, it is not possible to pause it in between. In total, the interview takes around 45 minutes.
As a last step in the application process, you will be invited to a personal interview. The interview will take place shortly after we have evaluated your Kira Interview. Applicants have the option of choosing between an in-person interview on campus or an online interview.
As part of the on-campus interview, you will have the opportunity to join a campus tour and ask a current student questions about student life at WHU. Program representatives will also offer a short Q&A session to address any administrative or application questions you may have.
Should you be unable to attend one of the Interview Days, please contact our Admission Team.
A few days after your final interview, we will inform you if we can offer you a study spot for our Master of Science Programs. As a final step, you have to officially accept our offer within one week.
Upcoming dates for the Admissions Interview coming soon!
Our Application Center will open on October 15, 2021!
Start your application via our online portal and join the Master of Science Programs. You do not have to complete the online application all at once - you can save your information and come back to it later.