We can help you finance your MBA!
Pursuing an MBA can be a substantial investment, not only in terms of time and energy, but also financially. We're committed to helping you explore and evaluate the different financing options to make sure this investment doesn't stand in the way of your future.
Have a look at our financing options below:
Included in Tuition Fees
All books and materials
Accommodation and half-board during the international modules
Integrated German classes throughout the program
Personal development seminars and workshops
Semester ticket for public transportation in North Rhine-Westphalia
Note: The program fee does not include airfare, travel expenses, accommodation in Düsseldorf, or visa fees during the international modules. Please note that visa-related costs for the international modules amount to around 1,000 EUR in total. For most destinations a specific visa type is required which is not covered by a business or tourist visa.
Information for taxpayers in Germany (also applies to international MBA graduates working in Germany after graduation): the tuition fees for the MBA Program are tax deductible as anticipated professional expenses. For more detailed information, please click here or ask your tax advisor.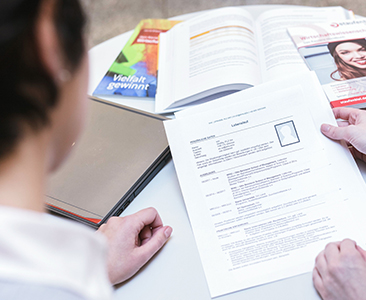 40,500
Full-Time MBA Program
As of the September 2023 intake, the tuition fee will be 43,000 €.
Don't miss the Early Bird offer!
April intake
Apply by Aug 31: €5,000 off tuition fees
Apply by Oct 31: €3,000 off tuition fees
September intake
Apply by Jan 31: €5,000 off tuition fees
Apply by Mar 31: €3,000 off tuition fees

*A complete application includes online application, MBA questionnaire, submitted GMAT and TOEFL scores, and university documents.