Study business psychology
Discover the wide range of career opportunities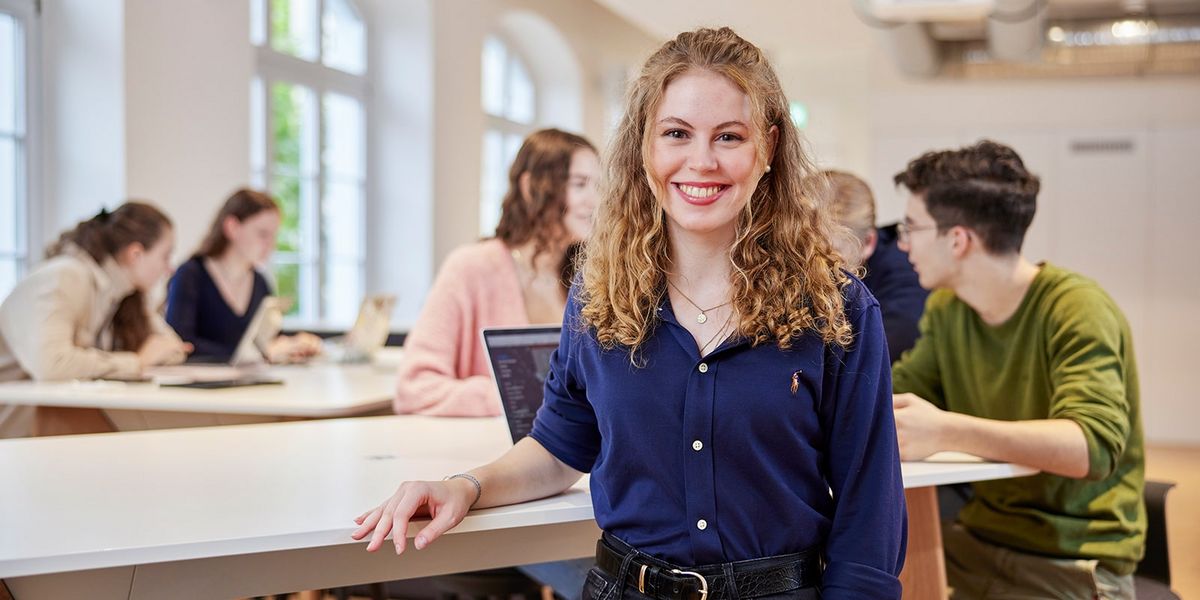 Are you interested in both business administration and psychology and would you like to combine your passions? Then the business psychology course is just right for you! As a graduate with a Bachelor's degree in business psychology, there are many career opportunities available to you. But what exactly do you do on this course? What requirements do you have to meet in order to study business psychology? Which Master's course is the best one to take after the Bachelor in Business Psychology? And what career opportunities are there for business psychologists after a Master's degree? You will find the answers to all of these questions in this article.
What does business psychology include?
As the name suggests, business psychology is made up of the fields of economics and/or business administration and psychology. The psychology part focuses on the way people think and behave as individuals and in society in different situations. This also includes working in the economic sector. Business psychologists analyze the behavior of certain people who work in the field of business administration and can then develop new concepts. For example, a company can benefit from analyzing the behavior of its partners and consumers. If you are still unsure whether Business Psychology is really the right degree program for you, then take our Bachelor Quiz now.
What is the duration of the Bachelor's degree in Business Psychology at WHU, and what does the course entail?
At our private business school, the Bachelor in Business Psychology runs over six semesters. There are also two internships that you have to complete in order to gain practical experience. As with our other Bachelor's degree program, the Bachelor in Business Psychology concludes with the Bachelor thesis, and you will obtain the title "Bachelor of Science". You will take core courses in the areas of business administration and psychology. In addition, you will learn a foreign language to prepare for your term abroad. In addition to your compulsory modules, there are options and advanced modules that you can take from the fourth semester onwards to gain further qualifications in your preferred area.
What is the NC requirement for business psychology?
Here at WHU, there is no NC requirement to study for a Bachelor in Business Psychology, but there are a few entry requirements that you must meet in order to enroll: You need a school-leaving certificate to show that you have completed your school education. In addition, you need a general or subject-linked university entrance qualification or equivalent higher education entrance qualification. You should also have advanced English language skills. We accept recognized certificates, such as the IELTS, the Cambridge C1 Advanced or a TOEFL test. Before you start your studies with us, you must be able to demonstrate that you have at least six weeks' full-time or at least twelve weeks' part-time professional experience. This may include apprenticeships or business-related internships, but not in your own family business, and the time between the practical experience and the start of your studies must be no longer than two years. Moreover, your professional experience should be related to your chosen course of study, for example in the field of psychology or marketing.
Which Master's programs can I do after the Bachelor in Business Psychology?
You can follow a Bachelor's degree in business psychology with various Master's courses in business management. The most obvious option is a Master's in business psychology. In addition, there are general Master's degrees in business administration / management programs or business study courses with appropriate specializations. Such specializations could be in areas such as human resources and organizational development, HR management, marketing, or market research.
Which WHU Master programs are the most suitable here?
If you decide to study for a Bachelor's degree in business psychology, various Master's programs are open to you afterwards. WHU offers the general Master in Management, the Master in International Business and the Master in Entrepreneurship. WHU does not currently offer a Master in Business Psychology.
What is the duration of the Master's degree programs and what do they entail?
The full-time Master's degree programs at WHU last 17 or 21 months, depending on the program. You can choose from the following courses:
The choice is wide and - from international management to finance - there is something for everyone. During your Master's degree, you will complete a semester abroad and an internship to prepare yourself as best as possible for the world of work. You will conclude your degree by writing your Master's thesis. The Part-Time Master in Management also enables you to complete your studies part-time so that you can continue to pursue your profession. This course is suitable for graduates who wish to dive straight into work after completing their Bachelor's degree. The term "double degree" refers to the option of gaining two degrees. In addition to the Master's degree at WHU, you can obtain another degree from one of our partner universities.
How much does a business psychologist with a Master's degree earn?
There is an interesting list on the website Berufsstart.de: Companies were asked about starting salaries for those graduating with Master's degrees in Business Psychology. The results were differentiated according to company size. As is usually the case when it comes to salary, the range of salaries mentioned is huge, from under 20,000 euros to over 50,000 euros a year. WHU does not yet have sufficient first-hand experience and data. However, we assume that after completing their studies, our business psychology graduates will work in similar companies and in some cases, albeit with a different focus, in comparable areas and functions to those graduating with a Master in Management degree, for example in the area of management consulting. At the start of their careers, graduates of the WHU's Master of Science programs earn an average of EUR 62,300.
What can I do after studying business psychology? What are the career prospects after the Master's degree?
Both a Bachelor's and a Master's degree in business psychology open up a wide range ofcareer opportunities. One popular area is Human Resources (HR). A knowledge of psychology is required at every stage from initially approaching and recruiting new employees, identifying their training needs and selecting future managers, through to designing major change processes within the framework of organizational development. Digitalization and flexible working models offer huge opportunities, but also present companies with major challenges that business psychologists can help to overcome. Especially in times of an increasing shortage of skilled workers, a company's ability to attract and retain good employees is a decisive success factor. Marketing, for example, is about understanding and influencing client behavior. In addition to classic tasks, such as designing advertising and selecting suitable communication channels, other areas of responsibility include highly strategic issues and the area of product development: What are trends? What is important to consumers? How should we develop our product portfolio or even rebuild it in order to be successful in the future? Many companies recruit external consultants to tackle the diverse challenges of a rapidly changing work environment. This is where business psychologists can come into their own by developing creative solutions and enrolling employees in the client company as constructive partners. After all, the success of every change project depends not only on the meaningfulness of the measures, but also on gaining the acceptance of the employees who have to implement them. Getting a foot in the door of management consulting is therefore also a very good option for business psychologists.