The Master application portal is open –
Start your WHU journey today.
Our holistic selection approach for our Master Programs allows us to consider all aspects of your application, giving you the opportunity to showcase your potential to our selection committee. We take your overall achievements into consideration such as work experience, international experience, academic performance, and extracurricular engagement.

Start preparing –
Learn about our Master Programs' admission requirements.
For our Master of Science Programs, we welcome applications from graduates with a bachelor's degree or equivalent from an accredited college or university, and with a sound knowledge of business administration, economics, and quantitative methods.
International and practical experience can be completed by September 01, 2020. Please contact the Admissions Team in case of questions.
Important information for candidates from China and Pakistan
Candidates from China or Pakistan are recommended to apply as early as possible before the start of the program as the visa application process for applicants from these countries can take several months.
Application deadlines
April 30, 2020*
May 31, 2020**
* For candidates requiring a study visa
** For candidates from EU/EEA countries as well as from Australia, Canada, Israel, Japan, New Zealand and the USA
Please note that the application deadline for the MSc Programs has now passed. No further applications will be accepted for the intake 2020.
Submission of TOEFL/IELTS and GMAT/GRE/TM-BASE scores
If you still need to take the GMAT/GRE or the TOEFL/IELTS, please note that ETS and GMAC are offering online tests soon. The TOEFL and GRE online test is available from March 26/27, 2020. The GMAT online test is expected to be available from mid-April. As far as we are informed, the British Council is not offering an IELTS online test and has suspended the tests until further notice or offers them only in specific areas depending on the country of the test center.
PLEASE NOTE: You may submit your proof of English proficiency and your GMAT/GRE/TM-Base score until July 31, 2020.
*This information might be subject to change. We will update it based on the most recent developments.
Program-specific information
For our Master in Management program, we seek recent Bachelor graduates with a degree in a business-related field of study, e.g. business administration, economics, or business engineering.
Applicants with approximately 60 ECTS credits in Business Administration (including courses in accounting, finance, marketing and management) are welcome to apply. Candidates should be aware that prior academic knowledge in mathematics, statistics and economics is required as well. WHU does not offer any pre-Master courses. However, you are invited to complete missing courses – either online or in person – at other accredited institutions until the official program enrollment date.
This program is open to candidates with a maximum of about 2 years of post-graduate work experience.
Should you still be unsure as to whether you fulfil the requirements or if you are missing a course, please get in touch with the Master Program team.
For our Master in Entrepreneurship program, we seek Bachelor graduates with a degree in a business-related field of study, as well as graduates from STEM or other subjects who demonstrate an appropriate background in an entrepreneurship-related area, e.g. through electives, their thesis, or practical exposure.
This program is open to candidates with a maximum of about 4 years of post-graduate work experience.
For our Master in Finance program, we seek Bachelor graduates with a degree in a business-related field of study, as well as graduates from STEM subjects with a strong quantitative background and first experience in finance-related areas, e.g. through electives, their thesis, CFA, or practical exposure.
This program is open to candidates with a maximum of about 4 years of post-graduate work experience.
Apply now –
Get your study offer in 3 steps.

Once you have reviewed the Master of Science Programs' admission requirements please read the Application Checklist and then complete the following steps:
Prepare a CV in English
Collect the supporting documents (see Application Checklist)
Create an application account online
Upload all required documents
Pay application fees (see below)
Make sure to click "submit"
To begin the application process, you need to create an application account. Once you log in, you will be presented with further instructions on filling out the various fields. You do not have to complete the online application at once - at any time during the application process you may take a break, save the information you have entered, and come back to it later.
Application fee
We charge a non-refundable fee of €100 for processing applications. However, if you apply before the early bird deadline of March 31, 2020, this fee will be waived. We recommend wire transfer using the details below as the most efficient payment method:
WHU – Otto Beisheim School of Management
Bank name and address: Sparkasse Koblenz, Bahnhofstr. 11, 56068 Koblenz
Reason for payment: lastname_firstname Application MSc
IBAN: DE85 570 501 20 00000 94102
BIC (SWIFT): MALA DE 51 KOB
The fee must be paid when the online application is submitted or the application will not be processed. Please submit proof of payment together with your application. Participants of the Campus for Finance - WHU New Year's Conference and the Private Equity WHU Conference will receive an application fee waiver when applying for the Master in Finance Program at WHU.
After having evaluated your documents, qualified candidates are invited to a video-recorded interview on Kira Talent. Kira Talent is an online platform, which allows us to record questions as well as the answers of the candidates.
Together with the invitation, we will send you a link for Kira Talent as well as further information on the interview via e-mail. You have one-week time to complete the interview. As the interview will be recorded, you can decide yourself, when you want to take it within the given time frame of one week. Please note that once you begin the interview, it is not possible to pause it in between. In total, the interview takes around 45 minutes.
As a last step in the application process, you will be invited to a personal interview. The interview will take place shortly after we have evaluated your Kira Interview.
While WHU Campus Vallendar will stay closed for health and safety reasons, all final admissions interviews will now take place via Skype/telephone.
Should you be unable to attend one of the virtual Interview Days, please contact our Admission Team.
A few days after your final interview, we will inform you if we can offer you a study spot for our Master of Science Programs. As a final step, you have to officially accept our offer within two weeks.

Upcoming dates for the Admissions Interview
March 23, 2020
April 24, 2020
May 08, 2020
June 19, 2020
Any questions? –
Drop us a line now!
The Master of Science team is happy to answer any questions you may have. Simply drop us a line! You are also invited to send us your CV for a pre-assessment of your eligibility.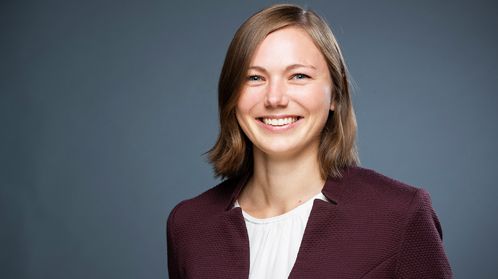 Regina Schmitz
Manager Admissions, Master in Management & Master in Entrepreneurship
+49 (0)261 6509 522
regina.schmitz(at)whu.edu